Hockey camp for children and youth by Karlis Skrastins and Oskars Bartulis is opened!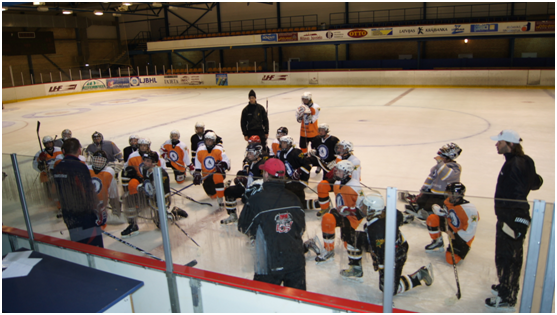 With great enthusiasm, belief in the potential of the new hockey generation the hockey mastery summer camp for the young hockey players organized by Karlis Skrastins and Oskars Bartulis with participation of NHL coaches has been opened in 27th of June and will continue until the 4th of July.
Altogether 74 children (65 players and 9 goalkeepers) in age from seven to 16 years responded the invitation to use the unique chance to improve their hockey player skills under the guidance of NHL and Latvian national team players. There are also youngsters from neighboring countries – Belorussia, Finland and Lithuania. The young hockey players are fervor and intent on trainings within the program – each day there are two training on the ice in Jelgava, Krajbanka Ice hall as well as track workouts.
Eight training days are envisaged and the young hockey players would improve their skills together with Latvia team's defensemen Oskars Bartulis and Karlis Skrastins and coaches including case hardened NHL professionals – Vjaceslavs Kuznecovs, a skating technique specialist from Philadelphia Flyers and Tim Turk, a coach of hockey puck control and PROshooters of the Montreal Canadiens.
"My experience verifies that they are excellent professionals in their sphere," says Oskars Bartulis, "and during the camp time they would help to build up practical basis within teenagers to help them to increase their chances to become professional players and build powerful career in the future."
"The work during the camp would be organized in several groups. Aim of the trainings is to improve playing techniques and polish twists and turns," says Karlis Skrastins and he is satisfied to see the return from the youngsters by saying, "I am glad that the teenagers perceive these trainings really seriously and are ready to learn despite of the sunny weather outside, because they want to get success in their future. We are inspired by them and we make all effort to share our knowledge and experience to the youngsters."
Karlis Skrastins – Latvia men's national ice hockey team – defenseman, former team captain, Dallas Stars – defenseman and awarded by NHL title "Iron Man".
Oskars Bartulis – Latvia men's national ice hockey team – defenseman, one of the best new generation players, Philadelphia Flyers – defenseman.