Ice hockey camp 2012 for children by Karlis Skrastins and Oskars Bartulis is opened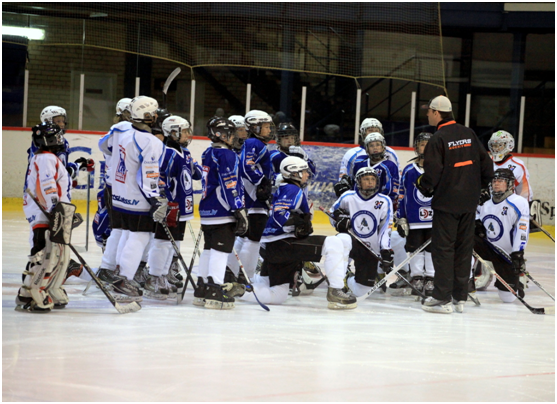 On Sunday, 10th of June the ice-hockey camp by Karlis Skrastins and Oskars Bartulis for children and youth aged 7-16 was opened again. The second year in turn the hockey mastery camp by the legendary Karlis Skrastins and Oskars Bartulis gathers the young ice-hockey players who are ready to put in all their effort to improve their hockey play skills under the guidance of worldwide acknowledged and recognized professionals and local ice-hockey stars.
This summer at Jelgava Ice Hockey Hall in city Jelgava two hockey camps will be held – first one from 10th to 15th of June and second – from 17th to 22nd of June, but the most passionate young hockey players who have applied for both camps would have possibility to keep training all 12 days. Overall number of participants for this year camps has doubled in comparison to the previous year. And more than 143 young strivers from Latvia, Estonia, Lithuania, Belorussia, Russia, Sweden, Finland and the USA have applied for the camp.
This summer, similarly to the previous year, several specialists from abroad would share their knowledge – Vjaceslav Kuznetcov, an ice-skating specialist from Philadelphia Flyers, Tim Turk, a specialist of hockey puck control and PROshooters from Montreal Canadians, as well as Dion Del Monte from Toronto, Canada. It is planned that specialists from KHL and NHL would participate in demonstration trainings.
During the camp children are subdivided into several age groups. There are two ice-hockey trainings and one track workout per day. Although the working language of trainings is English, according to participants view, this does not cause any problems to them.
"Today, after the first camp day is over, we as organizers of this camp are especially glad about the great zest, passion and determination of children when participating in trainings. Their serious attitude, discipline and ability to concentrate is admirable," Oskars Bartulis shares his rapture, "we are satisfied to meet here also children who have participated in the previous year camp and they have returned here this year to be in lines of other young strivers, to improve and polish their hockey playing skills."
Organizers of hockey camp by Karlis Skrastins and Oskars Bartulis are expressing great thanks to all sponsors of the camp – State Joint Stock Company "Latvijas Dzelzcels", sportslukss.lv, sportacentrs.com, Joint-Stock Company "Smiltenes Piens", Martina Bekereja, Zakumuizas udens and Drukas Divizija, because their support has been priceless in ensuring existence of this camp.