Invitation to apply for the Hockey Camp 2012 by Karlis Skrastins and Oskars Bartulis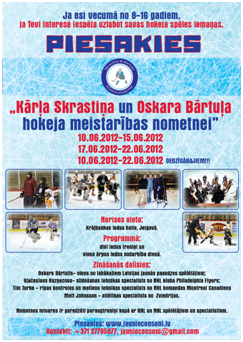 We are pleased and happy to inform that Hockey Camp by Karlis Skrastins and Oskars Bartulis is announcing enrolment of participants for hockey camps in 2012 summer season in Jegava, Krajbanka Ice Hall on following dates:
▪ June 10 to 15;
▪ June 17 to 22.
Most passionate new hockey players can participate in both camps!
▪ June 10 to 22 (June 16 – day off)
Information:
▪ Aim of the camp is to develop skills and proficiency of the new hockey players led by high ranked professionals and specialists and to increase youth interest in professional hockey.
▪ Children and youth (both boys and girls) aged from 8 to 16 are welcome to participate in the camp.
▪ Each day there will be two ice trainings, as well as track workouts.
Experience shared by:
▪ Oskars Bartulis – one of the best players of the new generation,
▪ Vjaceslav Kuznetcov – ice skating technique specialist of the NHL team Philadelphia Flyers,
▪ Tim Turk – coach of hockey puck control and PROshooters of the NHL team Montreal Canadiens
Additionally during the camp there would be also demonstration trainings together with Latvia men's national ice hockey team players as Martins Karsums, Kaspars Daugavins, Arturs Kulda, Peteris Skudra, Rodrigo Lavins, Arturs Irbe, etc.