NHL players donate complete sets of hockey equipment for 20 children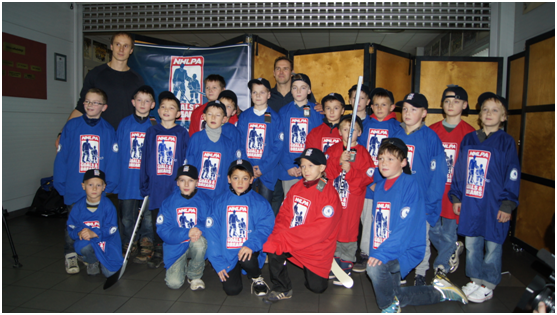 On November 5, 2012 at the Volvo Ice hall in Riga a ceremonious event was organized during which Oskars Bartulis, a defenseman of Latvia men's national ice hockey team, in cooperation with NHLPA (National Hockey League Players' Association) "Goals&Dreams" fund and association "Jaunie censoņi" rendered a special contribution to young hockey-players and their families who are in need – 20 new complete sets of hockey equipment.
The organizers of the charity action and beneficiaries from Latvian side are association "Jaunie censoņi" whose aim is to develop hockey in Latvia and improve playing skills of the new hockey generation. Together with hockey coaches from Latvia a detailed analysis of children needs was performed and 20 children selected who got the sets of hockey equipment during the event. The sets of equipment include all the necessary parts for hockey playing – helmet, protective equipments, hockey-stick and skates. Hockey equipment travelled to Liepaja, Ventspils, Talsi, Broceni, Riga, Valmiera and Daugavpils.
Oskars Bartulis, the defenseman of Donieck team "Donbass" playing at the Kontinental Hockey League, is the initiator of the charity program from Latvia side and he tells, "All 20 children are the ones, who are eager to play hockey, but their families do not have enough means to purchase all necessary hockey equipment. Coaches from different cities from Latvia helped to evaluate, which children are in most need for this contribution. We believe that these children will live up to expectations and will try their best to become great players."
Chairman of the Goals & Dreams fund, Devin Smith, commented on the success of the program. "Over the last 12 years, NHL players have donated more than $20 million to fund and assist grassroots hockey programs around the world. We've sent equipment everywhere from Australia to South Africa, Europe, Malaysia and North America. The biggest obstacle in participating in hockey is the cost of equipment. Our goal is to bridge that gap for less fortunate children".
In 1999, the National Hockey League Players' Association (NHLPA) launched the Goals & Dreams fund as a way for the players to give something back to the game they love. The players' program has donated full sets of hockey equipment that has benefited more than 60,000 economically challenged children in 25 countries and assisted with upgrades and the building of hundreds of arenas world-wide. To date, Goals & Dreams has donated more than $20-million to grassroots hockey programs around the world making it the largest program of its kind. For more information on the NHLPA, please visit www.nhlpa.com.
During the event ice-training was organized with participation of such outstanding Latvian hockey-players as Arturs Irbe, Aigars Cipruss, Arturs Kulda and Juris Klodans.