Players of the Latvia national men's ice hockey team donate new hockey equipment to young hockey players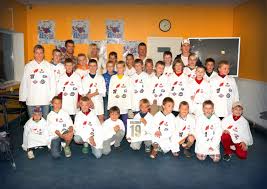 On Sunday, 16th of June a charity event at Jelgava ice-hockey hall was organized during which players of Latvia national men's ice hockey team and family of Karlis Skrastins presented a special contribution to young hockey players and their families who are in need of support.
Together with hockey coaches from Latvia a detailed analysis of children needs was performed and 27 children selected who gained the sets of hockey equipment during the event. The sets of equipment include all the necessary parts for hockey playing – helmet, protective equipments, hockey-stick and skates. Hockey equipment was given to children from Liepaja, Ventspils, Talsi, Broceni, Riga, Valmiera, Ogre and Daugavpils.
Taking into account that coaches from the USA and Canada participate in the annual ice-hockey camp for youngsters by Karlis Skrastins and Oskars Bartulis that takes place in Latvia at these days, the young strivers had also a possibility to practice and to improve their hockey paying skills in guidance of world class specialists.
The initiators and organizers of this charity event are players of the Latvia national men's ice hockey team – Oskars Bartulis, Janis Sprukts, Georgijs Pujacs, Lauris Darzins and Martins Karsums – and family of Karlis Skrastins. The first three of the players named before participated also in demonstration training together with the young hockey-players. After the training children grabbed an opportunity to get also autographs by Latvia national men's ice hockey team players.
Oskars Bartulis says, "Each person must have a dream and the dream of these kids is to play hockey. The training has ended, but these children do not leave the ice-rink – they keep skating, there is passion in their eyes. We have a desire to help these children, to help Latvian hockey. Children are happy and I hope that this gift will favor development of their hockey playing skills. Due to fact that we are rarely in Latvia by ourselves, we contacted several coaches from different local cities and we entrusted them to choose the children who are in the most need for this kind of help. Today I put myself in place of these little boys and recalled memories from my childhood when hockey stars of that time national men's ice hockey team came to our training."
Janis Sprukts adds, "Hockey is very expensive type of sports, therefore we shared the initiative of Oskars Bartulis to support young strivers who are in need. Our aim is to help children to keep developing their skills and not to quit hockey."